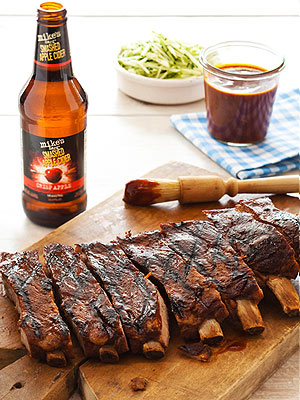 Welcome to the 3rd day of 4th of July BBQ Food! So far I have brought to your eyes delicious BBQ chicken pulled sandwiches and meaty BBQ meatballs. Today I'm bringing you a classic BBQ favorite, BBQ'd ribs. As I was browsing through my People magazine I saw an interesting BBQ ribs recipe that uses apple cider. Considering I love apple cider and ribs I figured this would be a recipe I should for surely try (or should I say have my Dad make for me). If you are used to the same old ribs recipe it may be time to switch it up, try this recipe for a little more added flavor.
This recipe was created by former Top Chef star and chef at D.C's Good Stuff Eatery, Spike Mendelsohn. Apparently he is a grill master, so it has to be good right? This recipe is brought to you courtesy of People.com.
Mike's Hard Smashed Apple Cider BBQ Ribs
Serves 8-12
• 2 racks of St. Louis-style ribs (about 4 lbs.)
Rub for Ribs
• 2 Tbsp. smoked paprika
• 2 cups brown sugar
• 1 tsp. cinnamon
• 2 Tbsp. ginger powder
• 1 tsp. allspice
• ½ cup Mike's Hard Smashed Apple Cider Crisp Apple
1. Combine paprika, brown sugar, cinnamon, ginger powder and allspice to create the dry rub.
2. Rub the mixture all over the meat and season with salt and pepper (allowing ribs to marinate overnight).
3. Pre-heat oven to 375º F.
4. Place meat in a roasting pan and slather the ribs with Mike's Hard Smashed Apple Cider Crisp Apple.
5. Cover the pan with foil and bake for approximately 2 hours, until 1 in. of bone is showing.
6. Finish on the grill over medium heat for approximately 15 minutes and glaze with BBQ sauce (recipe follows).
BBQ Sauce
• 8 oz. can chipotle peppers
• 2 cups thick BBQ sauce
• 1 Tbsp. molasses
• 2 Tbsp. Mike's Hard Smashed Apple Cider Crisp Apple
• 1 tsp. vanilla extract
• ½ cup nonalcoholic apple cider vinegar